Young Adults
Young Adults (18-23)
We welcome anyone age 18-23 to join us as we gather for a safe place to do life together and transition from high school to college/the workforce. We talk about relationships and friendships; school and careers; politics and science; injustice and brokenness; struggles, fears, doubts, joys, passions, gifts...and figure out together how all of the above fits in with following Jesus and bringing the Kingdom come on Earth as it is in Heaven.
Throughout the school year, we'll have both in-person events (for those living locally) and monthly hybrid gatherings for personal check-in and building a "creed" of Christian practices/beliefs. During the summers, we meet have gatherings at homes for dinner, games, campfires, swimming, Bible study, and conversations about faith, life, and Jesus.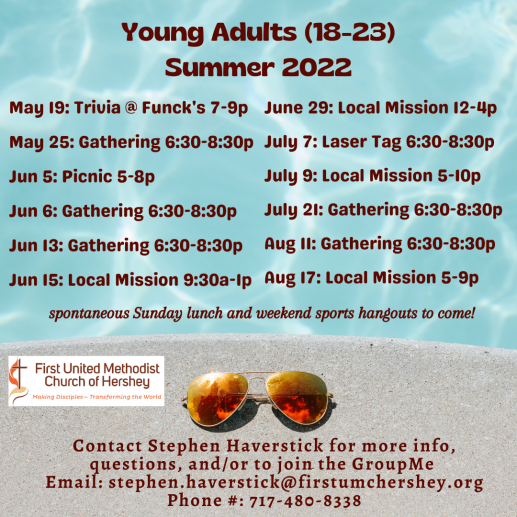 Check out the Summer 2022 Calendar for more info on times/locations of these gatherings and special events.
Young Adult Group (23-35)



Meet other young adults in the Hershey area for community, Bible study, meals, discussion, game nights, and prayer as we navigate the challenges of emerging adulthood as followers of Jesus. This is a space for young adults to grow in their faith and friendship with each other through the highs and lows of life. As a group we've also committed to being open and welcoming of those who are not accustomed to church or active participants at a local congregation. You do not have to be a member of FUMC Hershey to gather with us.
We meet bi-weekly on Thursday evenings from 6:30-8:30pm.
Check out the Summer 2022 Calendar for times/locations of gatherings and special events
Contact
If you have any questions or if you're interested in getting involved with one of these programs within our ministry, please contact Stephen Haverstick.